Autism Awareness Month (story written by Matthew and his family)
Every year the month of April is Autism Awareness Month. When Matthew was 10, he was approached by Brain Katz, owner of 10th Ave. Burrito Co, in Belmar, NJ to be featured as his Artist of the Month at his restaurant.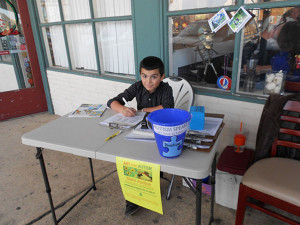 Matthew jumped at the chance. He immediately said to Brian "Can I have the month of April, since it's Autism Awareness Month?" Then he turned to his mom and said, "And I want to donate all the money from the art show to Autism Speaks, okay mom?"
Thirteen signed copies of Matthew's original paintings (12 of them done with Miss Debra of Aspiring Artists) were matted and framed and put on display for a month long silent auction. Since family and friends paid for the matting and framing of the artwork, and Matthew's parents paid for all the reproduction costs of the paintings & printing of the note cards and calendars that were also being sold, 100% of the proceeds would be able to go directly to Autism Speaks.
The night of the Art Opening over 80 of our friends, family, members from our church, and teachers & friends from Matthew's school were in attendance. The silent auction bidding started, and orders were placed for note cards and calendars that also featured Matthew's art work. At the end of the month, the highest bidder for each print was contacted and asked to make their check out to Autism Speaks. One print sold for $200.00. Six others went for $100.00.
From his fundraiser effort, Matthew was able to raise over $1500. for Autism Speaks. Burrito made cash donations to Matthew's event also bringing the grand total to over $1,500.00 raised for Autism Speaks. Matthew was diagnosed at age 2 1/2 with Pervasive Development Disorder, which is a form of autism; although there is no evidence of this diagnosis remaining. Matthew is well aware of his previous diagnosis and how blessed he is. "This art show is a way for me to help out others that need it", said Matthew.
Matthew has been a student of Aspiring Artists since he was 7 years old, and Ms. Stasiak was delighted to hear that Matthew sold his paintings to support Autism Speaks.  Matthew's efforts truly reflect the Aspiring Artists movement where children help other children as they help themselves.